I am SO EXCITED! You know how I told you before these boxes seems to pop up just when I need them?! AWESOME! BOX TODAY!
So I tried a different swap program through
Katie
at Tomorrow With a Smile and I really enjoyed it. It's small, you and your partner give each other gifts and I noticed you really get to know your partner a little bit better. Like, I'd love to meet my partner from this swap because she's totally awesome and we found several things we have in common!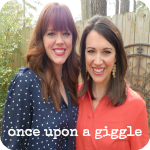 Who was my partner? CHRISTINA! from
Once Upon a Giggle
! She's totally cool, shares a blog with her sister (which I totally didn't get at first glance because I wasn't giving it my full attention. Bad Bethie.) She has a way of writing that just cracks me up and I love reading her adventures with her son. I really enjoyed having her as my partner AND she made one heck of an awesome Spring Box that I ADORE! Woop woop!
So let me tell you the story of this package. Christina sent it and immediately left town. I think I sent mine to her the following day and promptly lost my receipt which has the tracking numbers on it. Ugh. Anyway, I waited and waited... no package. I thought bad things about the Post Office. I finally told Christina - I haven't gotten it yet, I'm so sorry!
Um. Yeah, so... it seems a coworker put the box in the floor on the side of my desk, where another box of random work crap is located. So who knows how long it's been sitting here in my office, but I had no clue it was here! So when I cleaned up today, I found it! And I'm so excited !
This is what I found when I opened the box. Which I needed packing peanuts for a gift this coming Christmas for Macy (yes, I already know what I want to buy her... I'm addicted to that little girl, what can I say?!?!) But how much fun is this? This awesome lime green peeking through!
Then I get this awesome box out and it just screams SPRING FUN-NESS!! Even my coworker was interested at this point - a wrapped package inside the cool box! We REALLY wanted to know what was inside now!
And it did not disappoint! Do you see the shredded paper - love it! The card was TOO CUTE (she didn't know I grew up with bees! My dad was a beekeeper when I was a kid!) Two awesome journals that are small enough to fit in my purse. I wanted a way to write down prayer requests so I wouldn't forget them - solution! These cards are THE BOMB (outdated lingo, I know) but I love them! They are wonderful and almost my favorite part. Until you smell this candle, which is so Springy! Agave juice and fresh lime. Wow.
... then there was the chocolate. I say was. Ok no I haven't eaten the ENTIRE bag in the last 30 minutes. ... but that's as much as I'm willing to admit to at this point. :)
THANK YOU CHRISTINA, you totally rock and I'm so glad to get to know you better. Katie, thank you for including me in this swap because I really enjoyed it!!
Check out the other amazing swap boxes by visiting Katie's linkup here!