I think I mentioned here before Santa brought me a sewing machine. I have managed to pull it out of the box, but that's about all at this point. That doesn't stop me, however, from drooling over all these quilting inspirations across the web, a few of which I'll share with you. I'm too tired to think about my Friday's Letters, so this will replace it.
These kitchen accessories are from
Grits & Giggles
. I just LOVE her blog in general, but fell in love with these adorable pot holders. What a cute idea for a housewarming! She said it was to use up scraps! *sigh* I long to have scraps... scraps for adorable projects...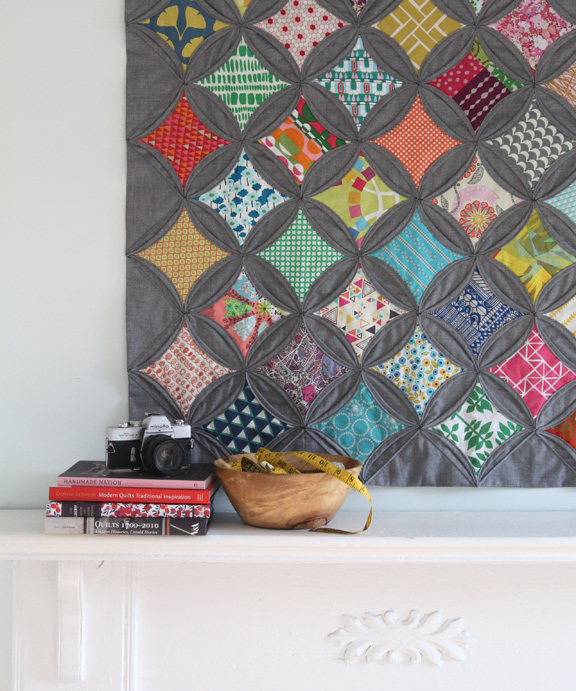 Oh my gosh, that grey mixed with color. LOVE source
This. Is. Beautiful. Love Love Love it! The grey and the colors, the patters and that crazy hard looking pattern (they say it isn't as hard as it looks, .... hmmm...) anyway, I follow
The Long Thread
to see things like this. So pretty.
I follow this crew on IG, but found this on their website -
Fabric Editions
offers so many cute free patterns, you gotta check them out. This skirt - don't you think Macy needs one of these? I thought so, too. So, who is going to get my sewing machine hooked up and ready to rock and roll?
Another scrap quilt? You gotta be kidding! source
This crew is totally new to me (
My Quilt Infatuation
), introduced in another blog,
Southern Gal Thoughts
, whom I adore. She is a very "real" person who loves God with all her heart and has been quite an inspiration to me with the depth of her faith. I'm so glad I found her online! And her quilt, (below), her FIRST EVER full sized quilt I must add, was featured on the blog above! I love both of these quilts so much. The riot of color in the one above and the fact she was using scraps - wow. And below - these colors are so perfect for her granddaughters and I love the triangles all the way around! I want this quilt!!! And this is her first? Oh my gosh, I can't imagine what my first will look like. I'm worried.
Find her quilt journey here
Granted, I don't need to worry since I haven't even put the dang sewing machine together yet! When have I had a chance?! Hopefully life will SLOW DOWN and become... well, boring. Boring is good because you can rest and all of us are needing a little rest.
Under a beautiful quilt.
:)
Hugs ya'll - have a great weekend!